Directory | Asia | Phnom Penh, Cambodia
Pavilion and Floatation the perfect combination in Phnom Penh
Two great properties make for a unique and memorable experience in the Cambodian Capital.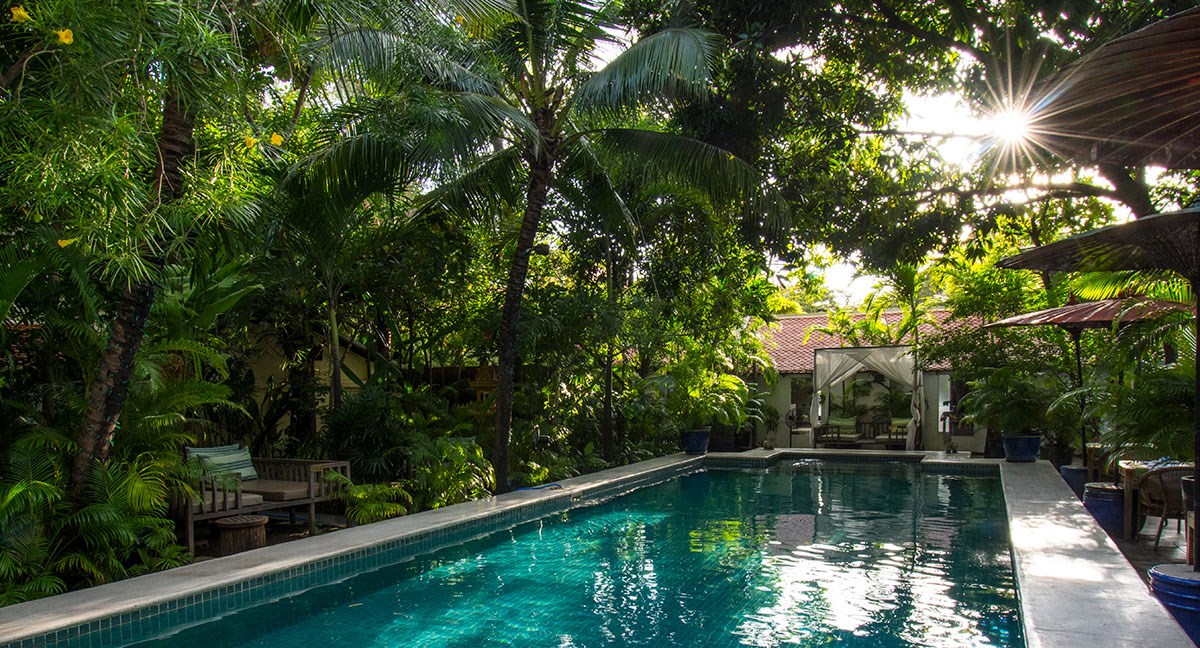 On a recent action packed South-East Asia tour we spent three days exploring Cambodia's bustling capital Phnom Penh.
We were fortunate to be invited for a media stay by Maads Asia as we had indicated an interest in their growing portfolio of properties throughout Cambodia. We spent 2 nights at the serene Pavilion Hotel in central Phnom Penh and had a one night stay at Floatation; their floating bungalow set on the banks of the Mekong River just a short boat ride from the city.
A few days visiting Phnom Penh are a must for any visitor to Cambodia and our combination of two nights in the city and one on the river was a perfect way to experience this fascinating capital city.
We arrived in Phnom Penh in the late afternoon after a 4-5 hour car journey from Siem Reap. Our first stop was Pavilion, we had read so many good reviews about this hotel and after a few hours on the road we were glad to arrive at such a peaceful sanctuary in an otherwise hectic environment!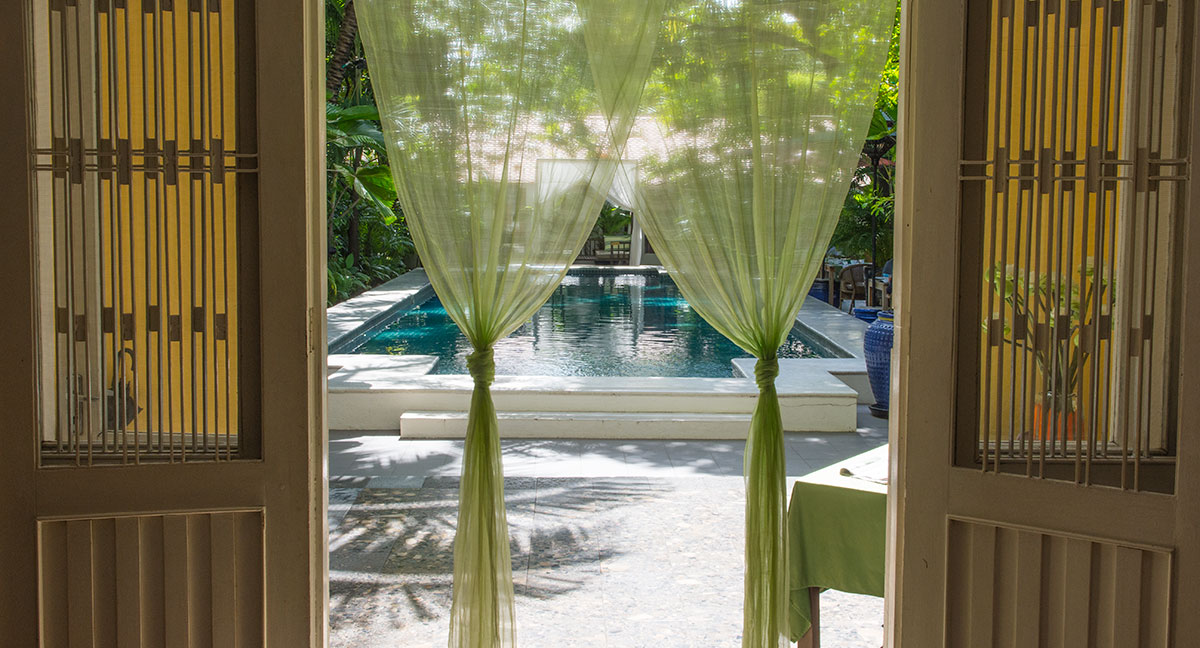 Set back from the street in Phnom Penh's historical district, Pavilion is comprised of four period style buildings and two large swimming pools in a tropical garden setting.  Pavilion is also over 16's only so this helps add to the sense of tranquillity at the hotel. Check-in was a breeze as we sat and sipped a delicious welcome drink in the airy lobby area whilst the staff did the usual ID and credit card checks. Our room was available immediately and we went straight up to room 7, which was a "Deluxe Double", a charmingly rustic room in the main house building, with a stunning balcony overlooking the main swimming pool – the aptly named "lush pool". The room was very spacious and comfortable; we loved the balcony which was a great spot to enjoy a drink from the mini bar later on in the evening, it felt more like a luxury jungle hide-away than a city centre hotel!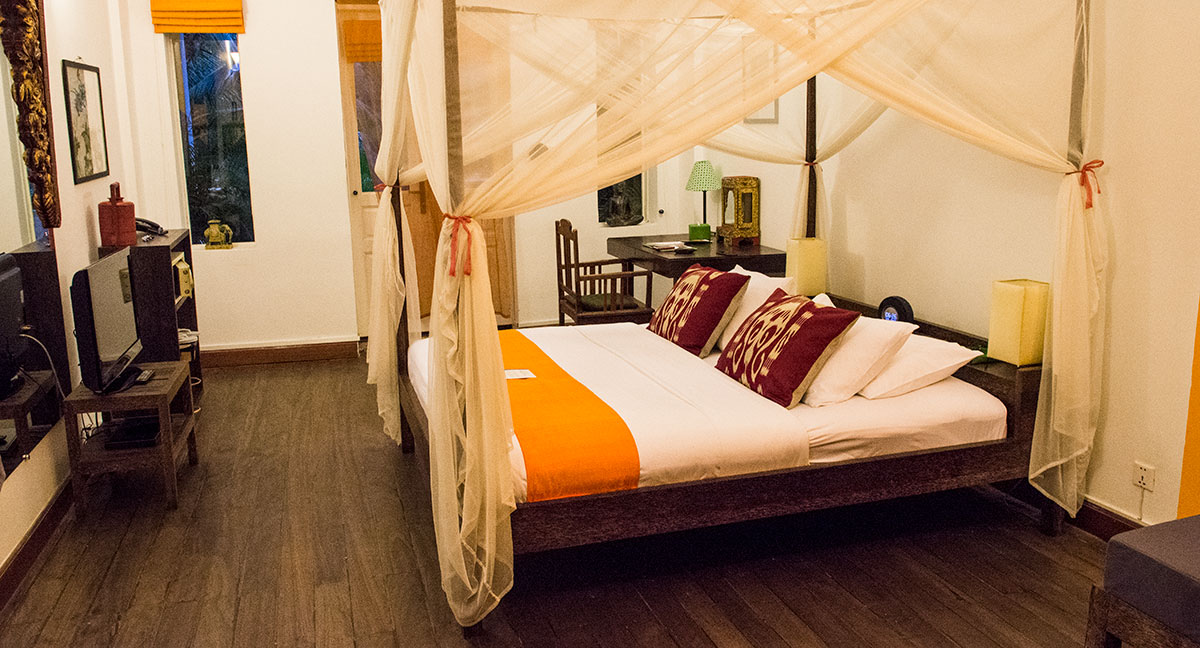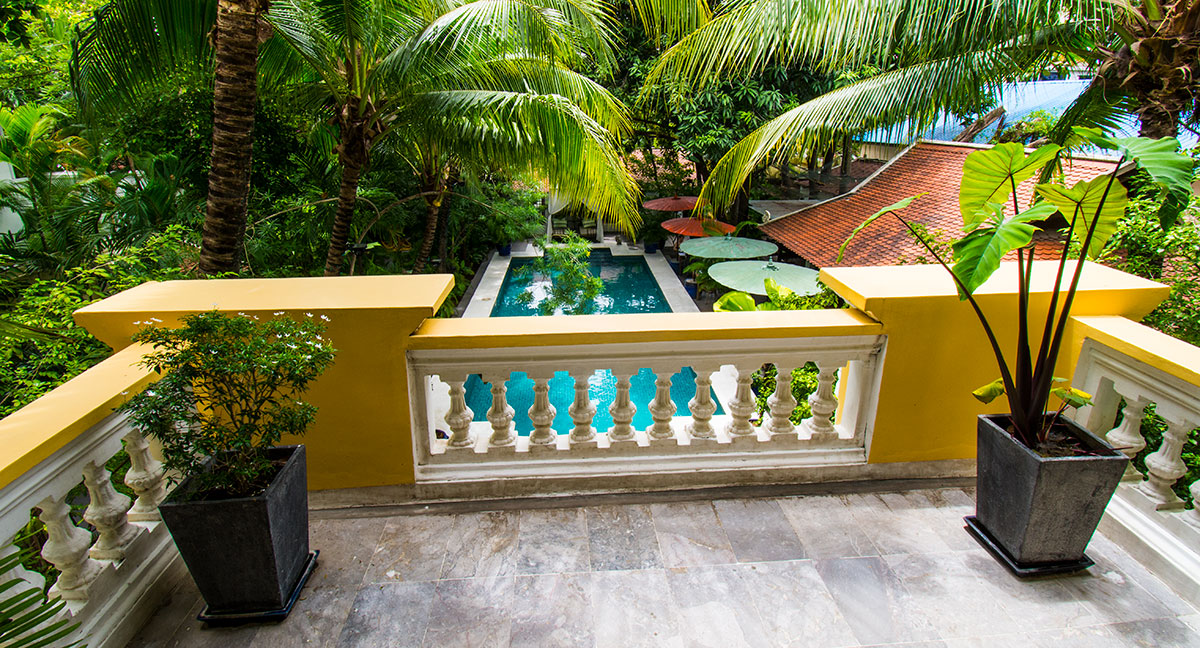 After waking up late and enjoying a freshly cooked breakfast by the poolside restaurant, we spent our first full day in Phnom Penh exploring the city's main markets (Russian market and Central market) in the morning, followed by a trip to the Royal Palace in the afternoon. We found it best to ask the guys at the hotel gates to get us tuc tuc / moto taxis to the markets, but Pavillion is in a great location for Royal Palace, National Museum, and Wat Botum – all of these are within a short walk.
Later on we left the oasis of Pavilion to spend our second night at Floatation. Due to our departure flights we had to do this on our second night, although not a problem for travel junkies like us we'd recommend staying at Floatation on the third night of a visit to Phnom Penh as it would be more relaxing! It was great being able to leave our large bags in storage at Pavilion so all we needed was an overnight bag and a camera! We were picked up at just after 4pm from the hotel reception by Tony the tuc tuc driver who was a friendly and entertaining character who drove us the short journey to the riverside pier.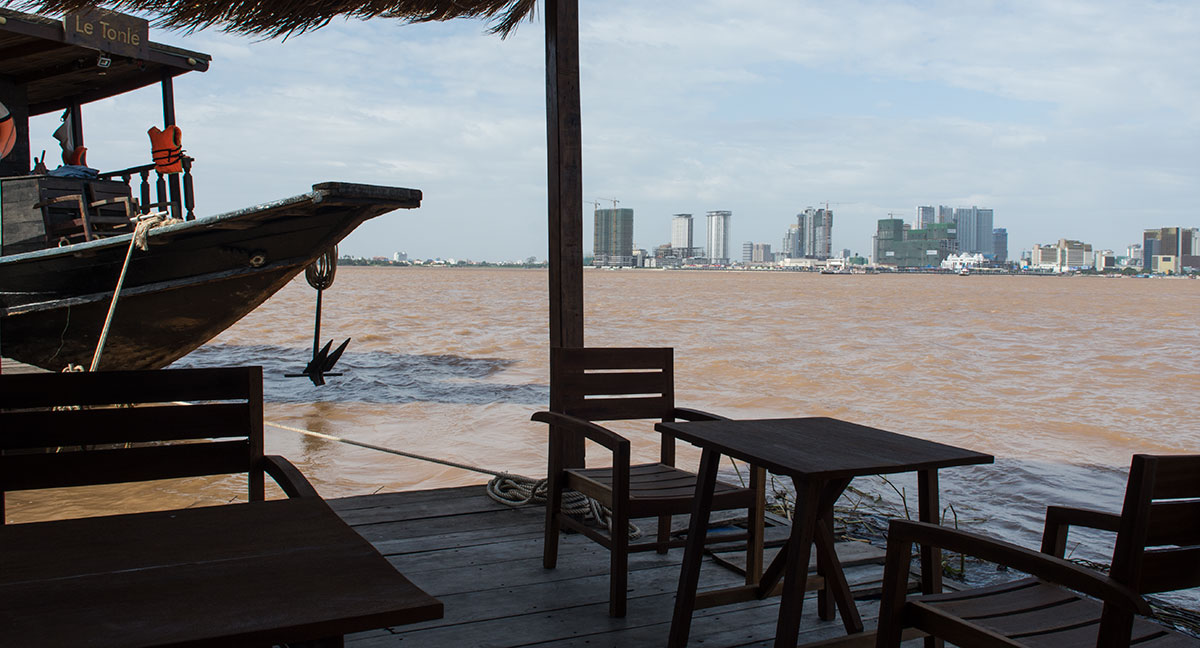 We boarded Maads' "Le Tonle" a traditional rice boat, for the 5pm cruise departure. Maads run Mekong river cruises with dinner every day with departures at 5 and 7pm. The first stop is Floatation where cruise guests can spend some time enjoying a drink and snacks from the bar, the journey took roughly 15 minutes and we had arrived at our home for night 2 in Phnom Penh.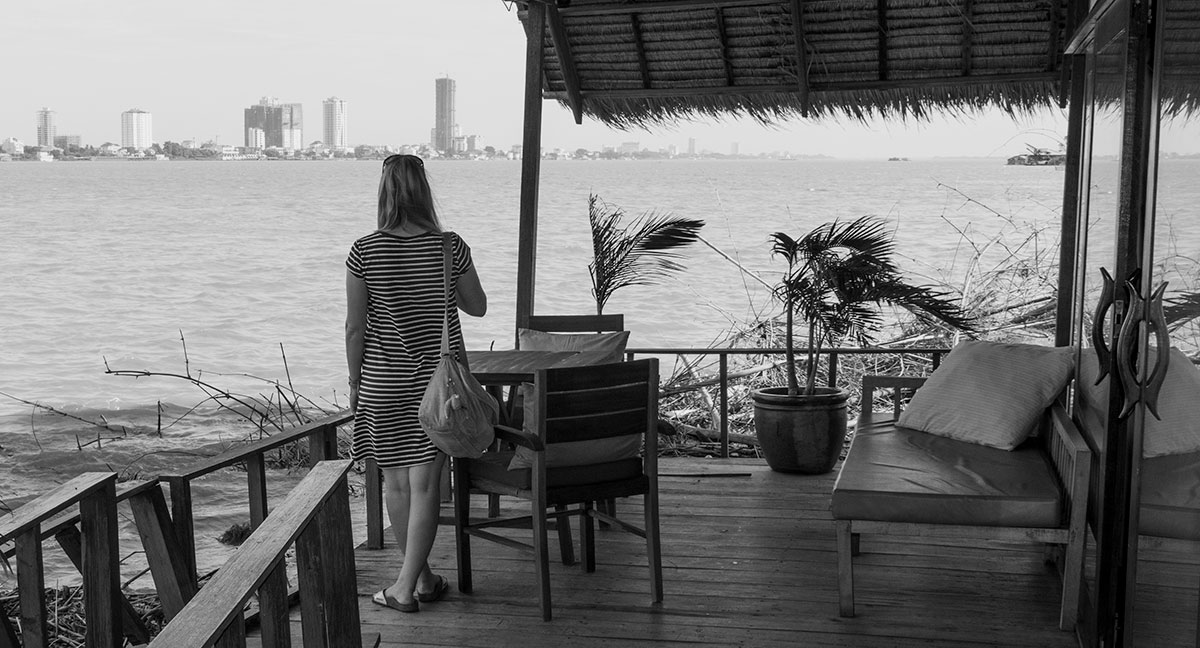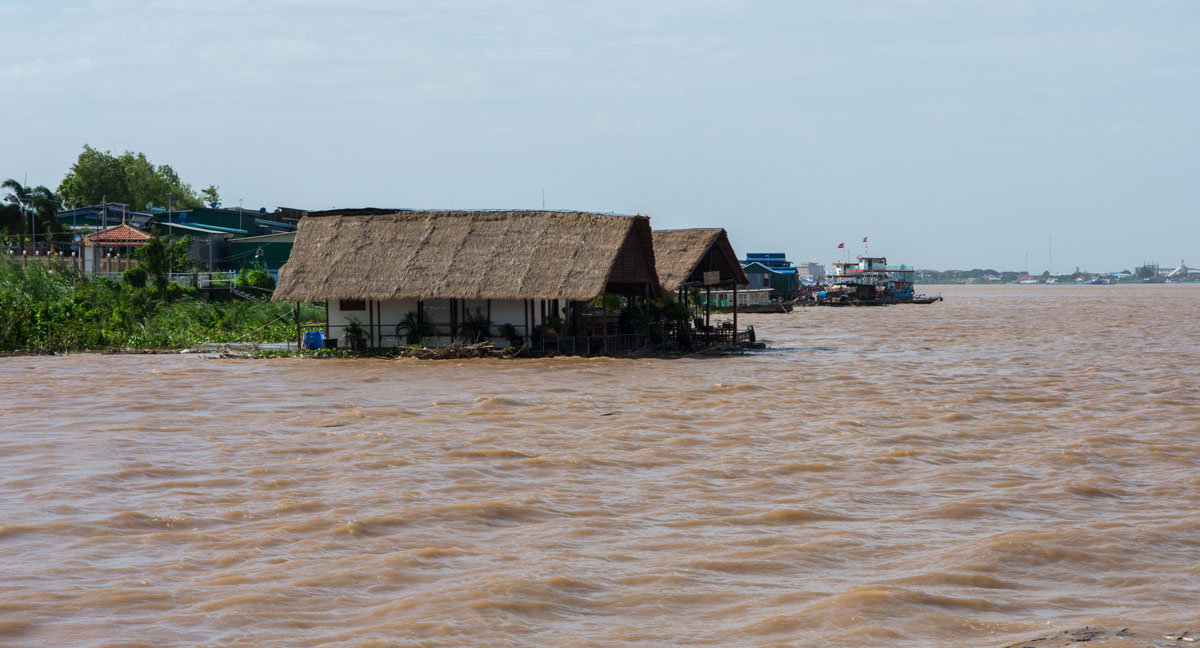 Floatation was certainly a unique and memorable experience, despite only being a short ride from the city it really felt like a world away from the hustle and bustle. We hadn't expected much of a sunset given we had visited in the midst of the rainy season but were pleasantly surprised to be gifted a beautiful evening sky set against the views of the mighty Mekong and the lights of the city. It really was the perfect setting for a romantic dinner and drinks for two!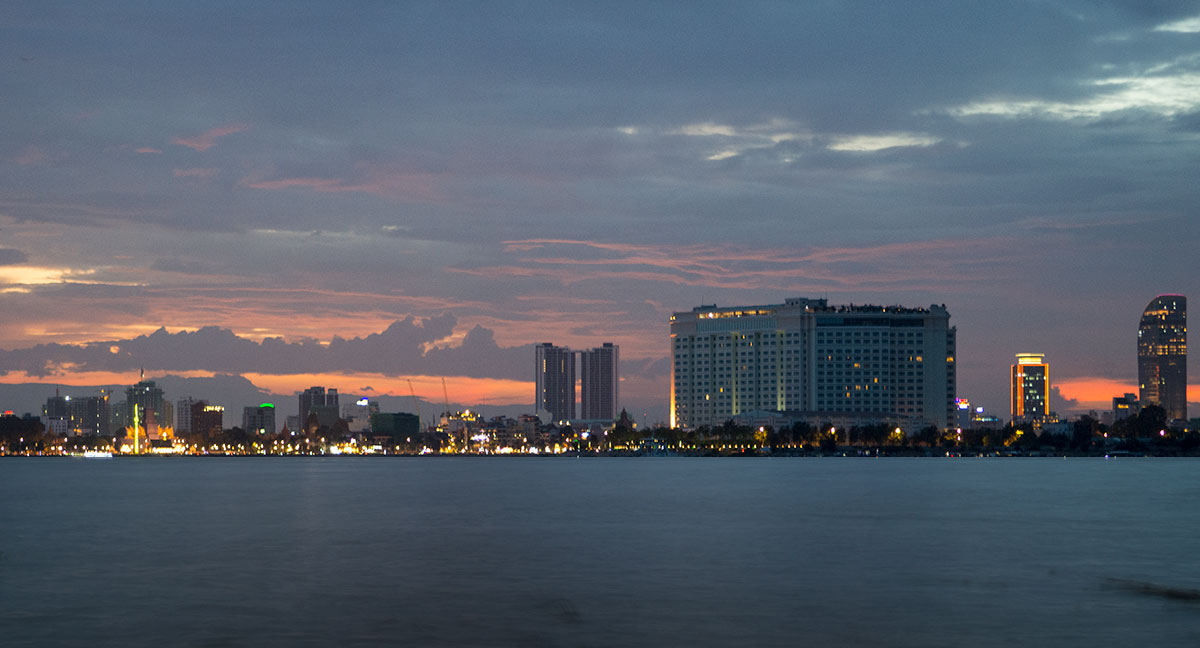 The bungalow itself was spacious and very comfortable, it was nice to feel separated from the madness of the city but be able to observe the city lights from across the river, giving us a totally different perspective, the sound of the river current lapping against the jetty and the odd Gecko chirping away only added positively to the experience.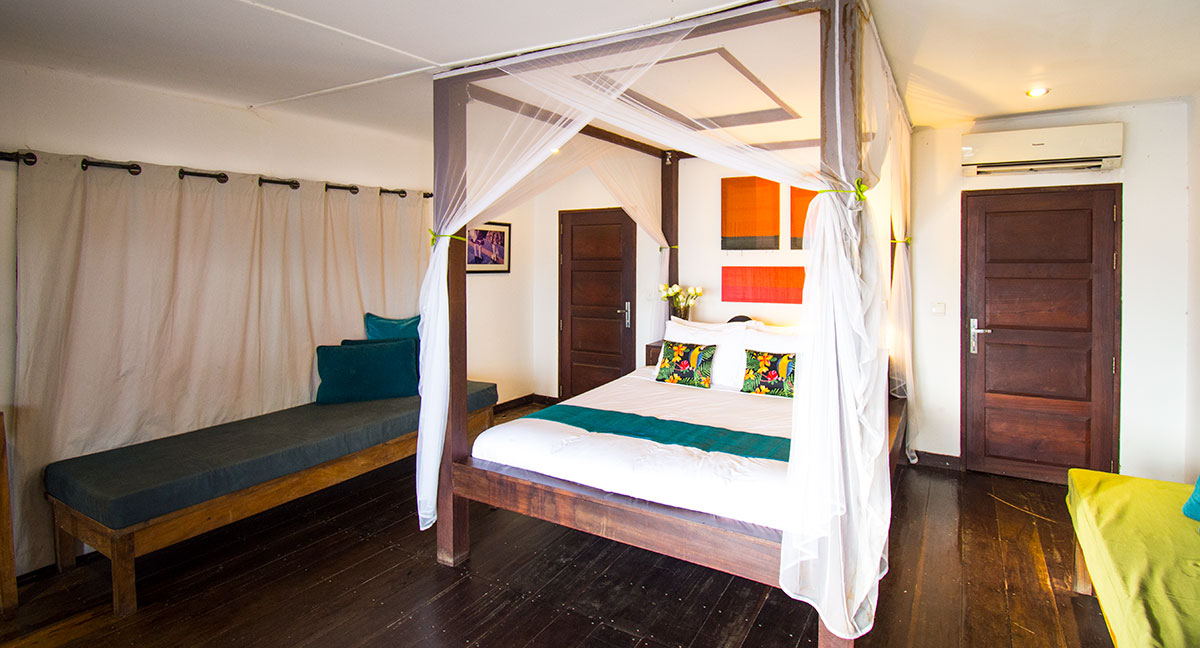 We had a really good night's sleep at Floatation and in the morning enjoyed a tasty cooked breakfast out on the decking before the boat came to pick us up at around 9.30 am, to go back to central Phnom Penh and on to Pavilion for our final night. We had previously arranged with Tony the tuc tuc driver to pick us up from the pier on return and then take us to visit the Tuol Sleng Genocide Museum and Choeung Ek Killing Fields – a harrowing but essential part of any Cambodia itinerary.
After an emotionally tiring morning we spent the afternoon chilling out back at Pavilion where we lucky to be given the chance to stay in the hotels largest "Suite" room (number 26), this really was a treat - the room is HUGE, 90 sq. m to be exact which includes a separate lounge room, a spacious outside terrace and bathroom fit for royalty! We made use of the complimentary massage offered by Pavilion to all guests which was 25 minutes of absolute bliss, this was followed up by an afternoon dip and lounging around by the "sun" pool.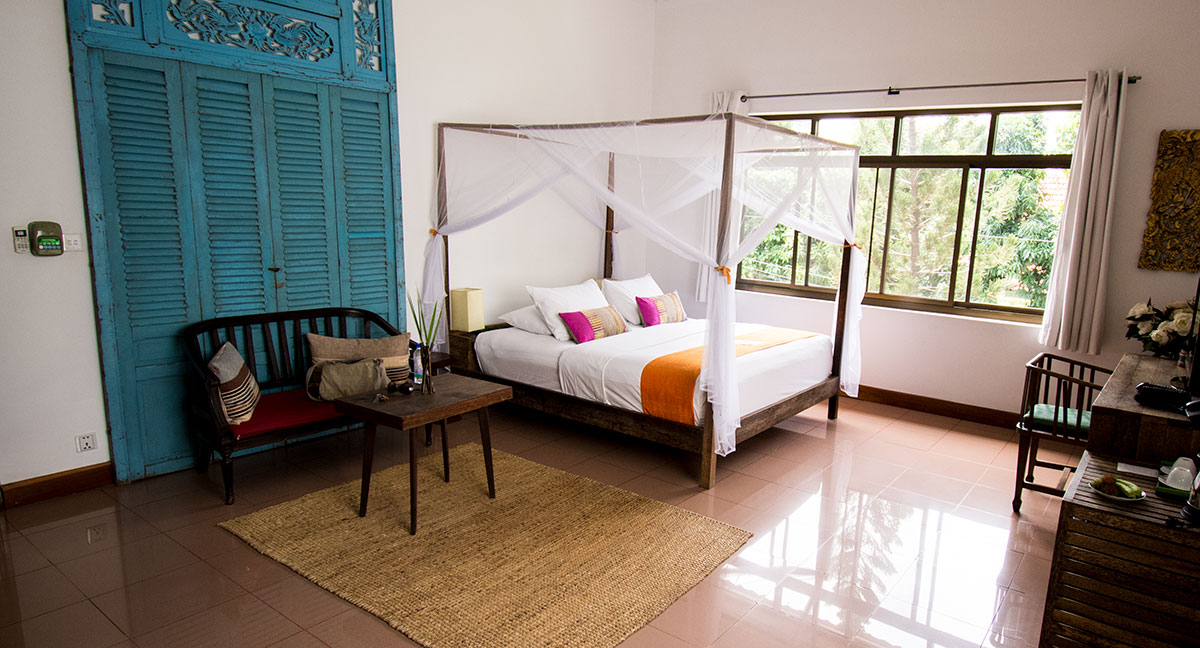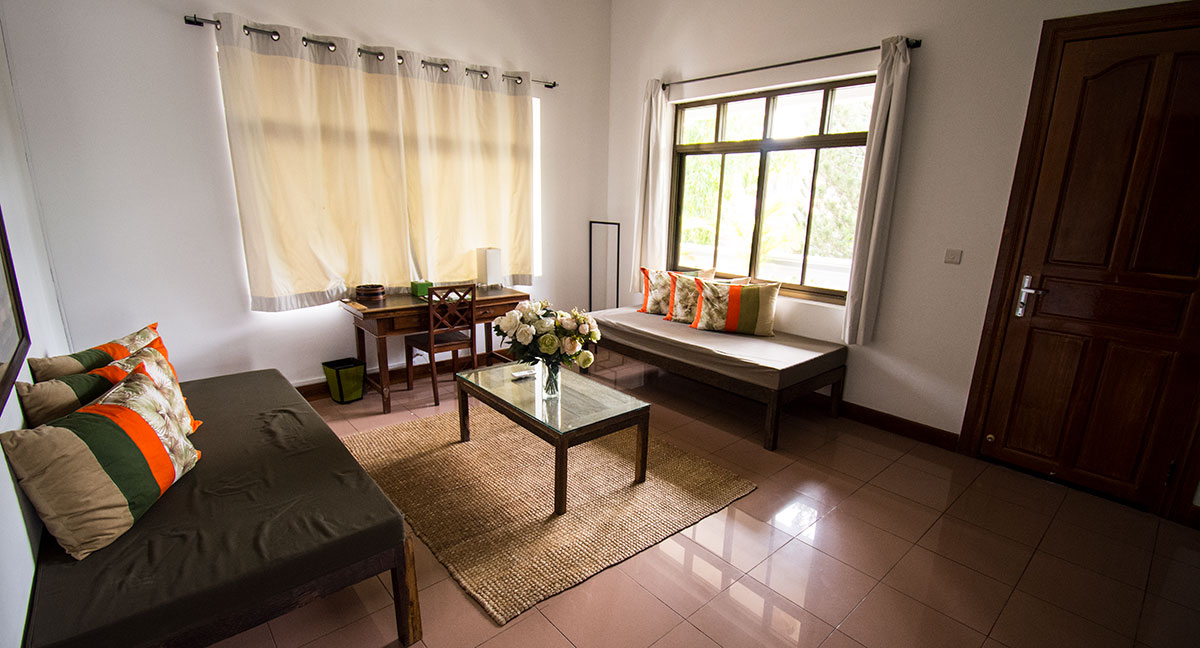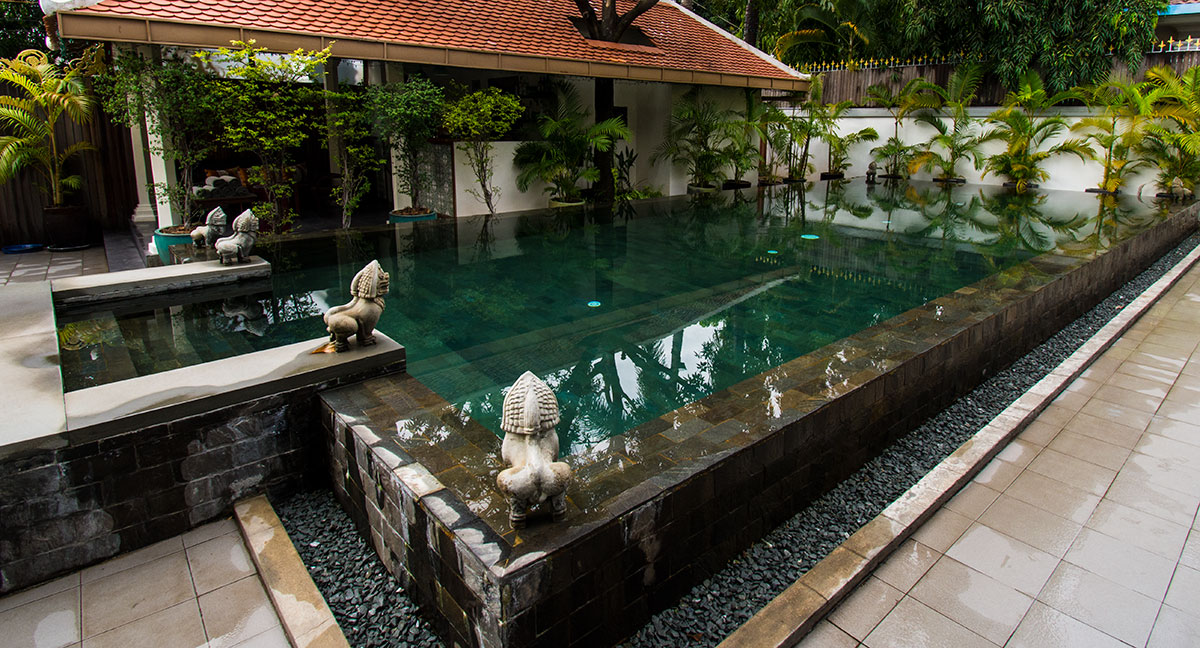 When you consider Pavilion's indicative room rates of $115 for the deluxe double room, $150 for the suite and Floatation at $90 per night, we felt that it represents excellent value for the quality of accommodation and service on offer.
If you're looking for an upmarket Phnom Penh hotel coupled with a unique Mekong experience then we would highly recommend two or three nights at Pavilion coupled with a night at Floatation.
This article was sponsored by Maads Asia. All opinions are our own.
Disclaimer: All opinions conatined in this article/review are our own. All photographic work is our own unless otherwise stated.