Directory | Asia | Cambodia
Golden Temple Retreat - Boutique Perfection in Siem Reap
Boutique luxury and five-star service, moments from the heart of Siem Reap and the temples of Angkor.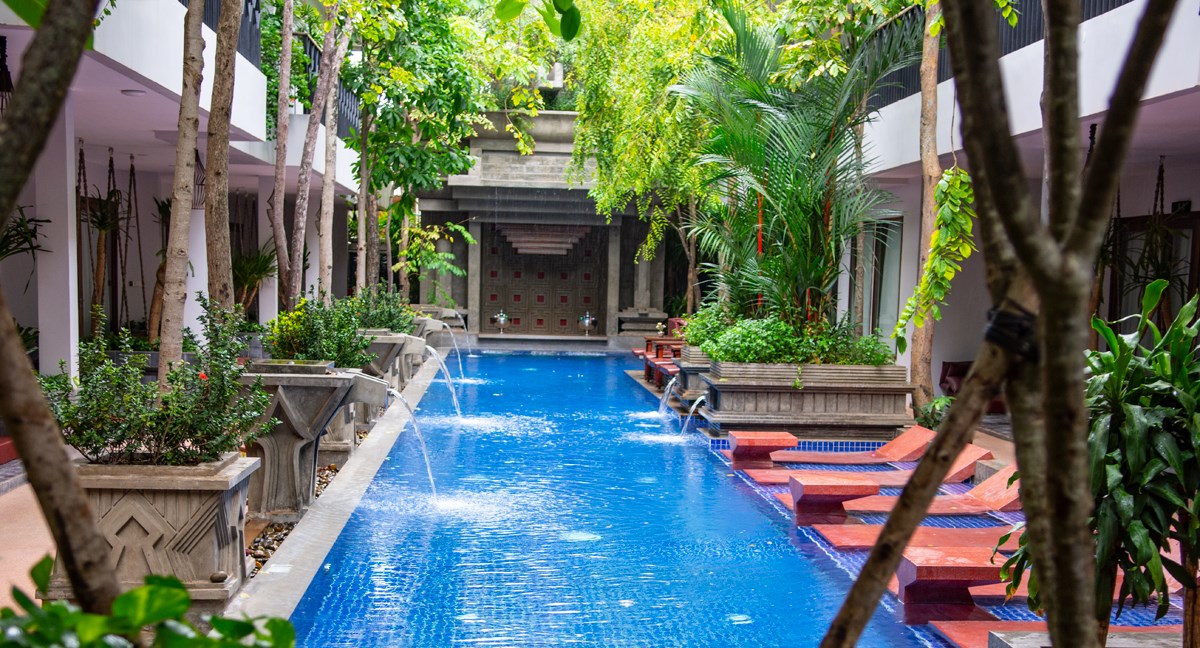 On a recent action packed South-East Asia tour we spent three days on a whistle stop tour of Cambodia's temples of Angkor.
We were fortunate to be invited for a two-night media stay by the Golden Temple Retreat in Siem Reap, which was our base for a hectic three-day schedule.
Located along a quiet side street The Golden Temple Retreat offers the best of both worlds in Siem Reap; you can relax in quiet and peaceful surroundings whilst being only a short (10-15 minute) walk from the bustling city centre.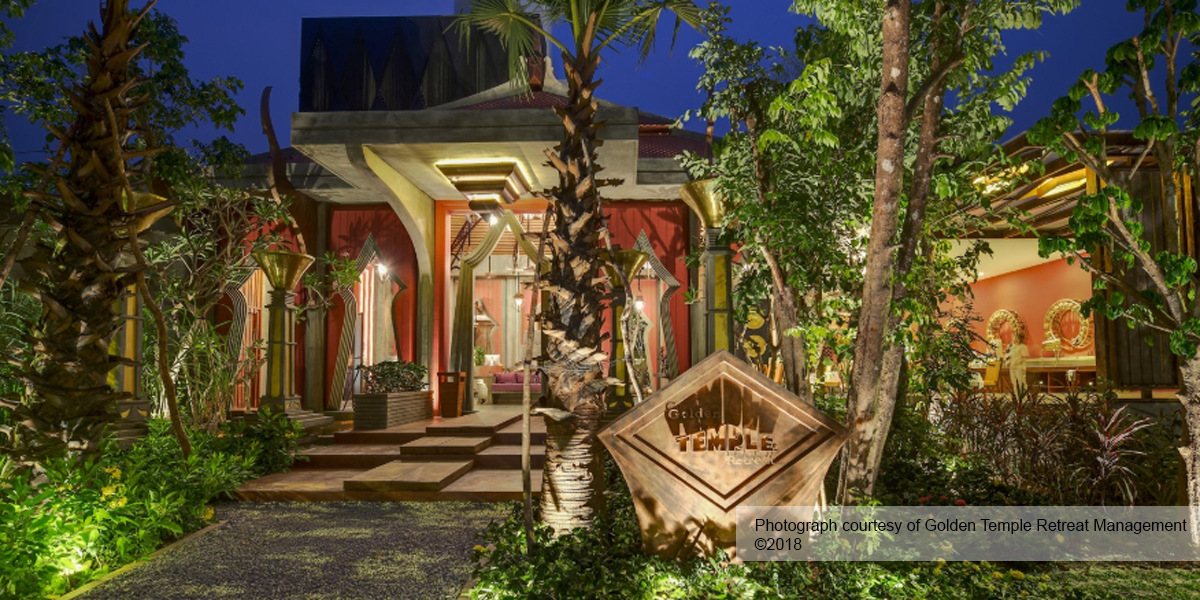 The Golden Temple Retreat is a luxurious boutique hotel, 32 spacious rooms are spread over three floors surrounding a stunning open-air pool. The hotel has an excellent restaurant and a spa, which are both great value for money. The service we experienced at the Golden Temple Retreat was easily the best we experienced in Cambodia and the free airport pick-up certainly makes life easier too!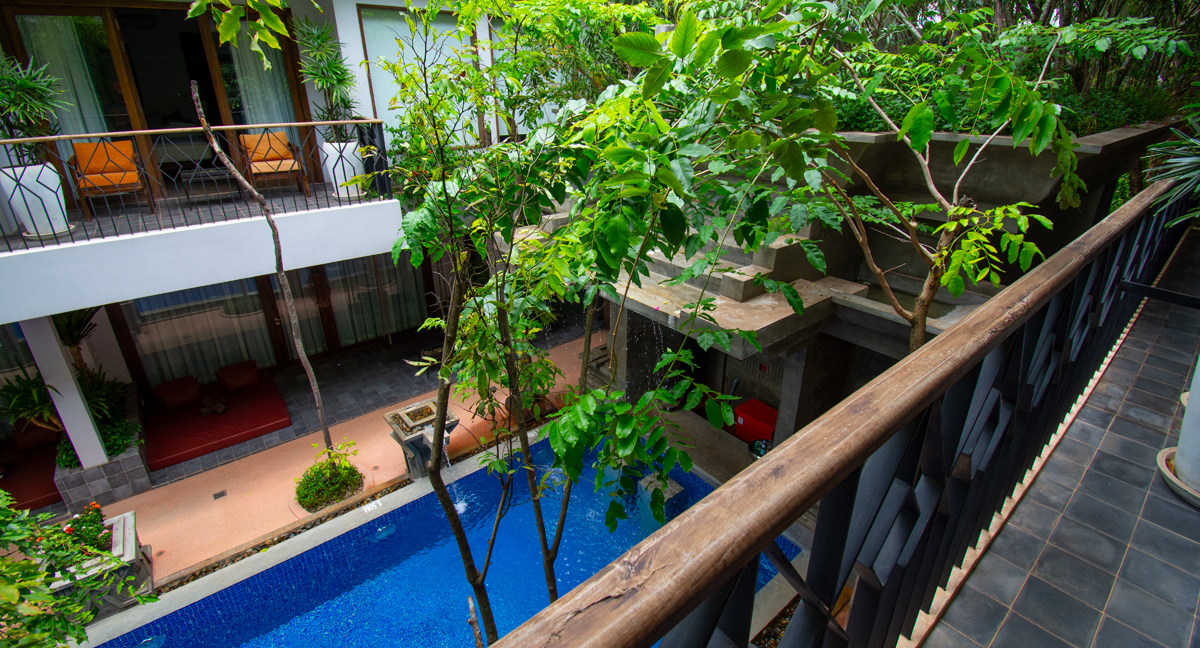 We arrived in Siem Reap at around 12pm after taking a short 45-minute flight from Bangkok. Having organised our e-Visa's for Cambodia in advance clearing immigration and collecting our bags was a breeze and we out of the airport in no time, our host Arina greeted us at the arrivals area outside and helped us take our luggage to the vehicle, we were given fresh coconut juice and a refreshing cold towel, the drive was about 20 minutes from the airport to Siem Reap. Along the journey to the hotel Arina gave us some information about the city and pointed out areas of interest such as the market and pub street to help us get our bearings.
Upon arrival at The Golden Temple Retreat we were given a tasty welcome drink and offered some peanuts and rice snacks whilst we waited for the staff to complete ID checks etc. and check us in. We stayed in a "Deluxe Suite" situated on the first floor overlooking the swimming pool. These room types are an impressively spacious 60 sqm, with a private balcony and stylish bathroom with freestanding tub. We loved the mix of modern fixtures with stylish furniture and decorative Khmer ornaments.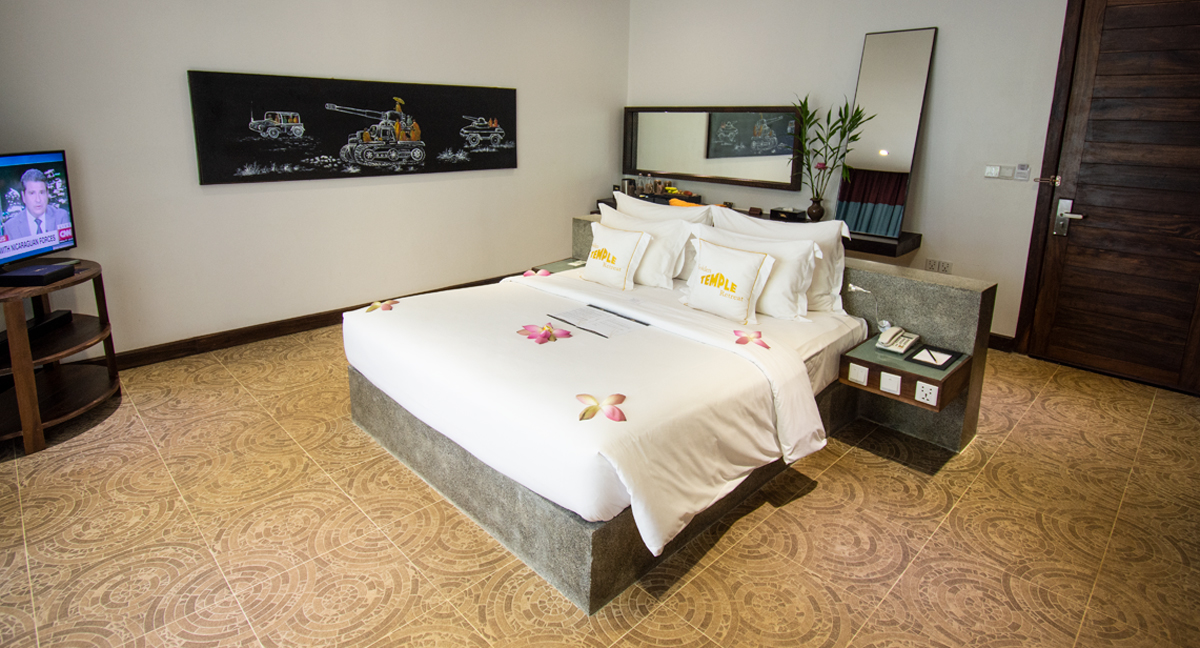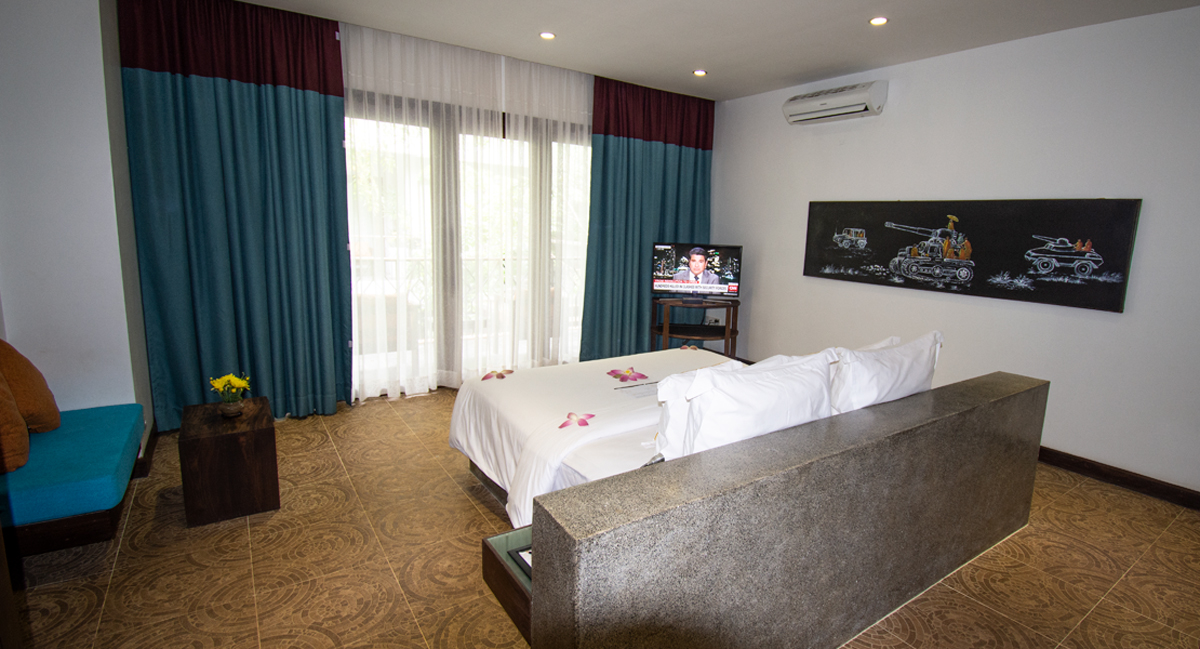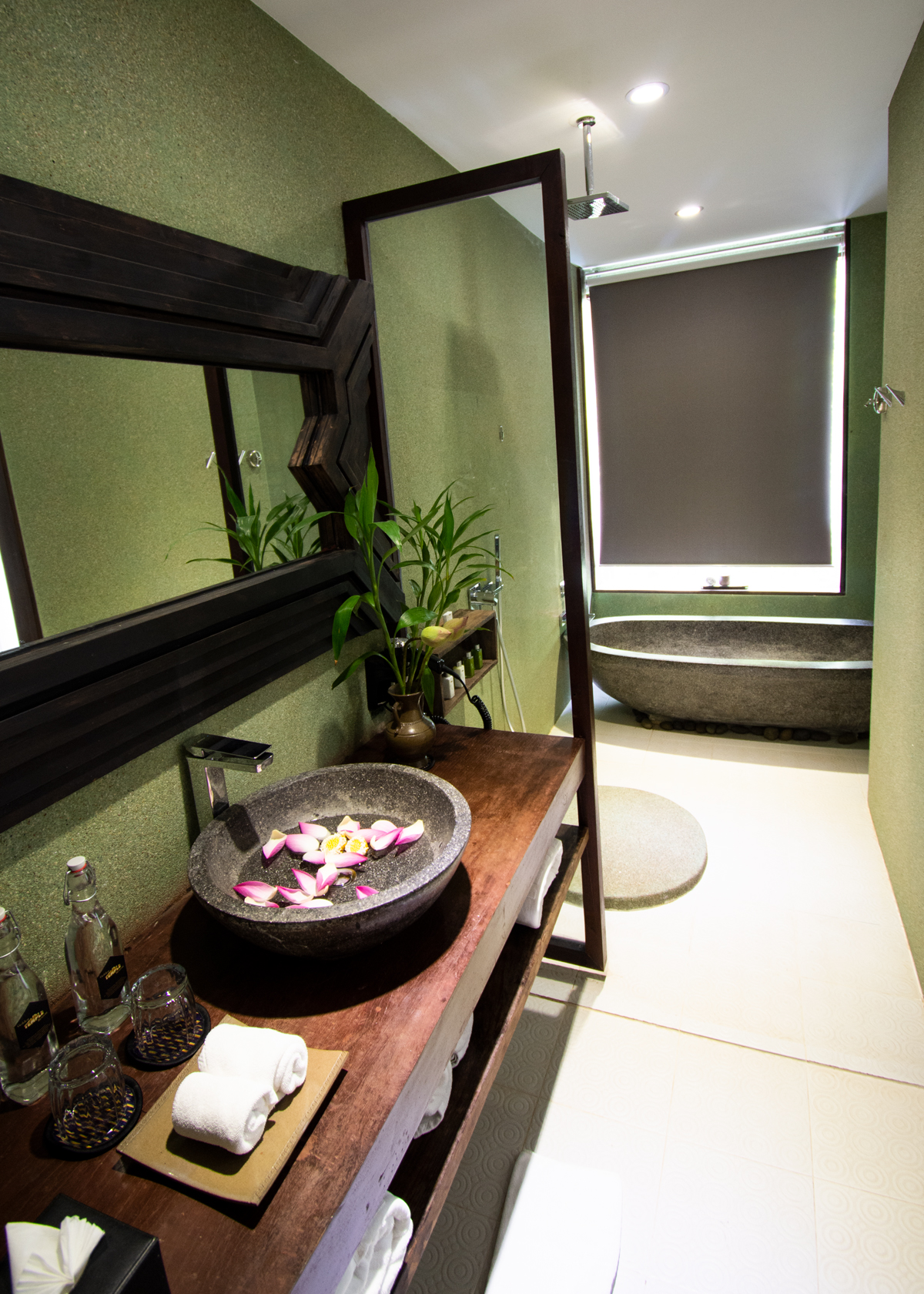 Because of our limited time in Siem Reap we pre-booked a tour with Golden Temple Retreat for our first afternoon. We wanted to fit in a visit to two of the more remote but popular temples of Banteay Srei and Preah Khan as we knew it would not be possible to include these on a one day tour of the main temples. Booking of this tour was done over email and the reservations team (Sokh and Sokly) were extremely helpful in recommending the best itinerary. We departed at around 1.30pm and despite heavy rain showers we had a fantastic afternoon and returned to the Golden Temple Retreat at around 5.30pm. Our diver for the afternoon was very friendly and helpful; he also took us to buy our 3-day Angkor passes en-route to the temples. The cost of the tour was US $50, which we thought was amazing value.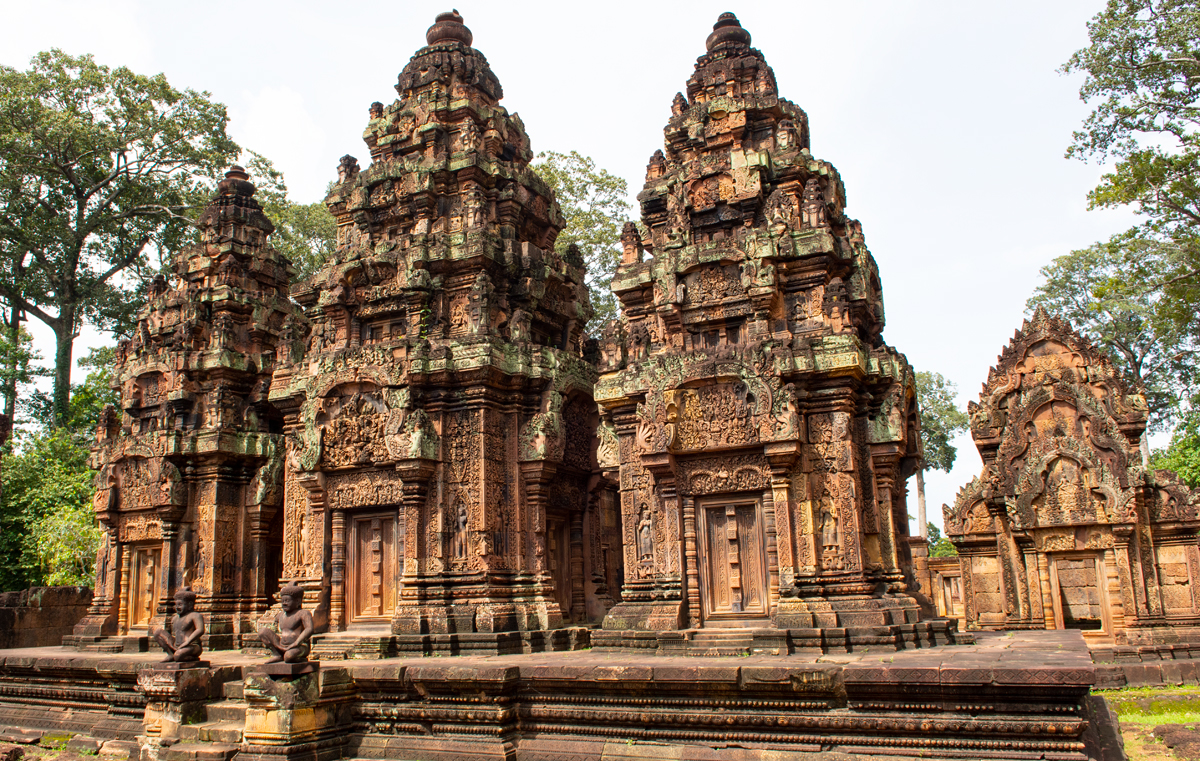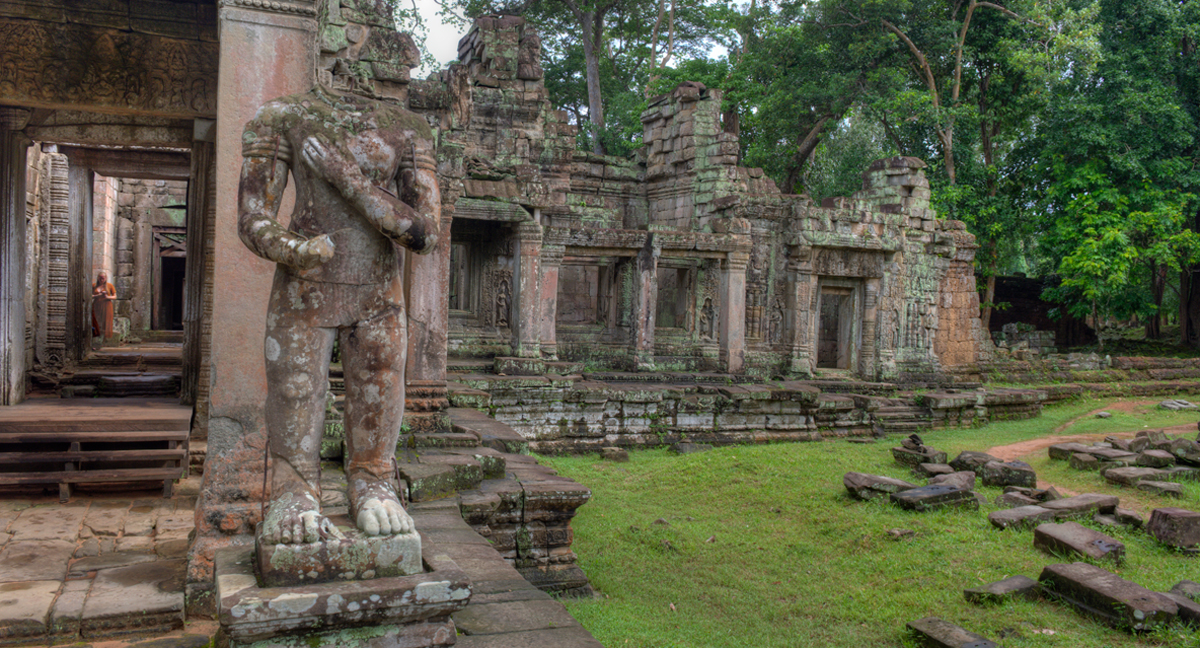 Due to still suffering a bit of jet lag and after a busy afternoon we decided to spend our first night in Siem Reap just relaxing at Golden Temple Retreat, the hotel restaurant offers in room dining so we opted for the fully lazy and much needed option of room service! The food on offer at the hotel restaurant is excellent and very reasonably priced; our favourite was the delicious curried fish burger.
After getting an early night we were up early again (4am to be exact!) for sunrise at Angkor Wat followed by a tour of the main temples of Angkor Thom and Ta Prohm. Golden Temple Retreat didn't organise our tour for day two as we had booked a tour with a local company offering specialised photography tours with professional photographers. The hotel does however offer competitively priced full day tours, we were quoted US $85 (for 2 people) for a tour including sunrise at Angkor Wat, Ta phrom , and Agnkor Thom in the afternoon with air conditioned car and English speaking tour guide. As we were up so early and would have missed breakfast the hotel staff prepared us a generous packed breakfast with pastries, fresh fruit and juices to take with us on our tour. Our day tour allowed for a few hours break around lunchtime where we returned to Golden Temple Retreat and enjoyed a much needed dip in the pool followed by another delicious meal in the hotel restaurant.
On our final morning we enjoyed a delicious freshly cooked breakfast of pancakes and poached eggs and fresh fruit from the buffet section. We spent the morning out photographing some local markets and the Buddhist pagoda near the hotel.
We had planned to spend the afternoon looking around the shops and then leave Siem Reap on the 6pm flight to Phnom Penh but Cambodia Angkor Air cancelled our flight! Our host Arina came the rescue and managed to arrange us a private taxi transfer direct from Golden Temple Retreat to our hotel in Phnom Penh, the cost of which was only US $75. In situations like this you really get find out how much customer satisfaction is valued; we were treated like family by the guest relations team who went above and beyond to make sure we were 100% happy with the new transfer arrangements they had made. The journey took us around 4.5-5 hours and Arina even called us halfway through the journey to see how we were getting on!
We both felt that two nights in Siem Reap wasn't nearly enough time to explore all the temples and all the city has to offer. The Golden Temple retreat was also such a relaxing and friendly place to stay we felt that our two-night stay didn't really do it justice – we would love to go back for longer! The indicative room rates on offer are between US $70 – 120, which represents outstanding value and we genuinely can't recommend this hotel highly enough!
This article was sponsored by Golden Temple Retreat, special thanks to Luon, Arina and the guest relations team. All opinions are our own.
Disclaimer: All opinions conatined in this article/review are our own. All photographic work is our own unless otherwise stated.